【For Food and Drinks】
A Touch of Eco and Smart Technology For Your Meal
Eating and drinking is the two crucial routine of our every day life. We work hard everyday, and eating can help us to reset and relieve. Get some creativity into your routine, try something new! Making your everyday eating more convenient, and it might be even more rewarding then you might think.
---
S+ ECO Cutlery
When it comes to plastic reusable cutlery, it is always the durability that keeps people from going green. Therefore, Ah Foo, the founder of Taiwanese brand S+,  came up with an idea, finding the material that actually works. And they finally chosen the combination of food grade PP and glass fibre which made the S+ ECO Cutlery.
Strong material, handles are all align with ergonomics
Can withstand heat up to 110 degrees Celsius, but not inducing heat to our hands
Can be stored and put into pockets or bags, minimalist appearance
Easy to clean, no odour remains on the cutlery
Easy to dissemble and re-assemble
100% made in Taiwan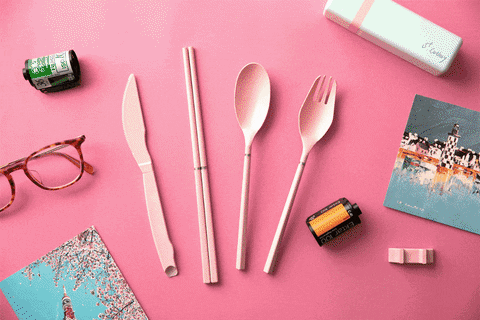 ---
S+ ECO Straw
After the cutlery, Ah Foo came up with S+ Straws as well, which providing variation in size in one package, and can be manipulated by the user at will. Smoothie, milk shake, bubble tea, S+ Straw has got them all covered. The triple-layer design not only makes it easy to adjust the length, but also easy to retract and store.
Triple-layer design, all parts are detachable, easy to clean
Patented design, large and small sized straws combined and retracted, easy to carry
Food grade PP material, withstand heat up 100 degree Celsius
Material can be recycled, eco-friendly
Stream-lined shape, not sharp edges, safe for children
100% made in Taiwan
---
BEVVO Portable Blender Cup
Fitness lover, good news! BEVVO from the US has introduced the Portable Blender Cup, which makes shake cups look old-fashioned. The Blender Cup is incredibly powerful, leaving no residues behind when making juice, smoothie or milkshakes, giving you a better texture too. It only takes a few second for it to blend, very convenient. A great asset and tool for getting in shape!
Make juice, smoothie or milkshakes with ease, "blend on the go"
Great for bulking up, say goodbye to your old shaker, the protein shake will not leave residues behind anymore
Two-piece structure, cup can be detached, easy to clean, no more smelly shakers
Durable battery, charge for around 2 hours, good for 15 times of use
Comes with soft case and a silicone ice-making tray, good for both warm and cold drinks
1 year warranty (keep the receipt to claim)
---
Faitron HeatsBox Life Smart Heating Lunchbox
Heatsbox Life is not one of those lime heating one-timer. With the internal 100W heater and a patented 360 degrees heating technology, your food will be heated thoroughly. Press the power switch, the lunchbox will heat up automatically, you may enjoy your meal within 30 minutes! It is easy to clean and reusable too. With this, you can get a hot and fresh lunchbox every day.
Heating similar to that of an oven, no water condensation, preserves food quality
No health issues caused by microwave radiation
Compact and easy to carry
The heating time and temperature can be set through the mobile app
1 year warranty (keep the receipt to claim)
---
Other Food and Drinks Related Products