USE YOUR CONSUMPTION VOUCHER BY PAYING WITH ALIPAYHK, WECHAT PAY HK OR TAP & GO!
🎁 Enjoy 5% Off your first purchase! Discount Code "GREEN1ST" (Valid on regular priced items only)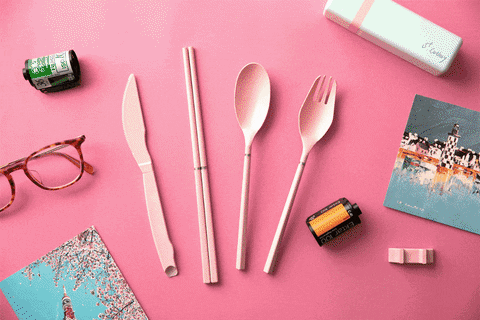 When it comes to plastic reusable cutlery, it is always the durability that keeps people from going green. Therefore, the founders of Taiwanese brand S+ came up with an idea, finding the material that actually works. And they finally chosen the combination of food grade PP and glass fibre.

Reusable cutleries are still not popular, because wooden ones could have moulds on it, silicone ones can have odour remaining, and stainless steel ones will still rust away over time. Also most of them are hard to carry with us, and cost a lot to make. It eventually fueled the pollution and wasting problems even more.

The best feature of S+ is the combination of PP and glass fibre, which makes the cutlery more durable and easier to clean. The cutlery is easy to assemble too, use the beautiful personalized case to store the cutlery set and you can put them into your pockets or bags. Live your life with S+!

Product Features
Strong material, handles are all align with ergonomics
Can withstand heat up to 110 degrees Celsius, but not inducing heat to our hands
Can be stored and put into pockets or bags, minimalist appearance
Easy to clean, no odour remains on the cutlery
Easy to dissemble and re-assemble
Product Specifications
Material: Food Grade PP, Glass Fibre, 304 Stainless Steel, ABS
Accessories: Chopsticks(pair), Spoon, Fork, Knife, Chopsticks Holster
Size and Weight
(margin of error ±0.5cm )
・Chopsticks: L21.5 cm, Weight (pair) 18g
・Spoon: L18.5 cm, W3 cm, Weight 10.5 g
・Fork: L18.5 cm, W3 cm, Weight 9.5g
・Knife: L18.5cm, W2 cm, Weight 14g
・Chopstick Holster: L4 cm, W1.3 cm, H1 cm, Weight 4g
・Case:L12 cm, W3.5 cm, Weight 35 g