Top 5 Products for New Pandemic Surge
Confirmed Cases Exceed 10,000! SmellGREEN Is With You to Get Over the Crisis!
Recently, the number of confirmed cases in Hong Kong has exceeded 10,000 for several days. The government expects that the trend will continue upward. Yet the school year has just started, it could be very concerning! We must raise the level of pandemic prevention to protect the health of individuals and our families!
GreenSTORE is launching the following 5 SmellGREEN disinfection kits, SmellGREEN® can be used for daily disinfection, as well as with various cleaning tools or SafePRO® Multi-purpose Nano Sprayer. Even though the pandemic is surging, SmellGREEN® is here with you to get through it.
SmellGREEN® Natural Disinfectant
The SmellGREEN® Natural Disinfectant is US EPA registered, and was included in the list of products recommended by the EPA to deal with the COVID-19 virus. SmellGREEN®'s 99.99% efficacy in killing bacteria, virus and mould is supported by the experimental results.
Cleaning, disinfection, and mould removal 3-in-1. The natural ingredients can directly replace alcohol hand sanitizer, best for personal disinfection, space disinfection, and surface cleaning.
HK Standards and Testing Centre certified, kills 99.99% of bacteria & viruses
Botanical ingredients, 100% biodegradable (OECD 301E Standard, degrade within 14 days)
Non-toxic, Non-corrosive on surfaces (pH8), safe for kids, pets and the environment
Satisfies stringent food security requirements
Recommended by US EPA for use against COVID-19 viruses (List N.)
Different Packages, For Your Different Needs
SmellGREEN® Natural Disinfectant comes in three different sizes for different occasions.
---
Disinfection Floor Mat
Every day when we go back to work and school, the soles of our shoes are covered with a lot of viruses and bacteria, especially now that the pandemic is heating up again, we have to make sure we don't bring the virus home with us!
GreenSTORE's Disinfection Floor Mat make use of PVA sponge to lock the disinfectant inside, accompanies with the 3D dynamic design. It can thoroughly clean and disinfect your shoe treads. Step on the micro-fibre mat afterwards to dry your shoes, so that germs, viruses and dirt will always stay outside.
Special Offer
Upon purchasing Disinfection Floor Mat, you can enjoy a special offer, $412.2 (10% off) for a gallon of SmellGREEN® Natural Disinfectant Spray. The offer will be valid as long as stocks last!
---
SafePRO® Toilet Bowl Foam Disinfectant Dispenser
Many of the previous outbreaks were due to poor sewage treatment. Therefore, the important step of pandemic prevention starts with the toilets!
SafePRO® Toilet Bowl Foam Disinfectant Dispenser has came up with a solution for you! A simple press of the button, bubble up and dispense a layer of disinfectant/sanitizer foam into the toilet bowl. It is effective in sanitizing, maintaining cleanliness, and stopping aerosol droplets! Also, you can control how often you want to dispense, so that you will not have excessive bubbles or a clogged up toilet.
Use it with 100% botanical SmellGREEN® Natural Disinfectant, deploy a fine layer of protection to kill 99.99% bacteria and viruses. Great for lowering the risk of disease transmission in households or public premises.
Special Offer
Use any of Johnson Group's hygiene, disinfecting and pest control services, pay an extra $200 to redeem a SafePRO® Toilet Bowl Foam Disinfectant Dispenser (Original Price $358).
---
SafePRO® Sanitizing Humidifier
The SafePRO® Sanitizing Humidifier create a virus-free space for you! It utilizes the negative-ions to disperse and form very thin fog. With the auto and manual rotating features, the nozzle is able to cover all angle. Apart from clear water, it is also suitable to use with SmellGREEN® Natural Disinfectant. A tiny amount of the Disinfectant can greatly reduce the risk of disease transmission. The natural Thymol is very unlikely to induce allergic reaction or inflammation, so that you need not to worry about the risk of lung injuries.
40ml per hour flow rate, great for both humidifying and sanitization

230ml large capacity so that you do not have to refill frequently

Plug it directly into your phone charger or adaptor and it is ready

Totally silent, no noise when operating

120

°

 of auto horizontal rotation, and a 270

°

 of manual vertical rotation

Come with 3 spare cotton cores so that you can change it to maintain flow rate
---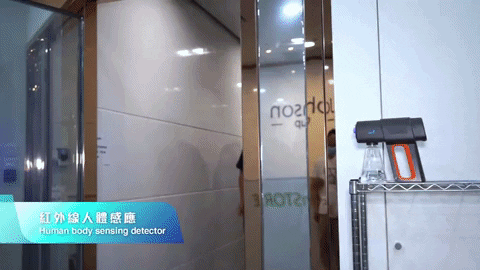 SafePRO® Multi-purpose Nano Sprayer
SafePRO® Multi-purpose Nano Sprayer is equipped with a smart infrared human sensor, along with 1 litre of SmellGREEN® Natural Disinfectant. Apart from spraying and cleaning by handheld, the combo and take care of automatic disinfection at spots such as entrances. Disinfect the guests' clothes and belonging with no human contact, decreasing the chance of viral transmission greatly.
380 mL transparent tank, easy to monitor remaining liquid level
Unique infrared human sensor design, will not triggered by objects with no heat
Strong 3 gear spraying output, adjustable spray intensity and flow rate
Light-weight, compact, easy to cover narrow spaces
Compatible with solutions such as disinfectant, mould remover, pesticide, deodorant, bird repellent, cleanser etc.
Suitable for household and commercial use, such as restaurants, schools, hospitals, gyms, elderly homes, pet clinics etc.
---
More Cleaning Products
Natural Cleaning + Antimicrobial Coating Set
SafePRO® Automatic Hand Sanitizer Dispenser
SafePRO® Multi-purpose ULV Fogger (Flat-bottom Tank, Green)
SafePRO® Backpack Electrostatic Sprayer (6.5L)