USE YOUR CONSUMPTION VOUCHER BY PAYING WITH ALIPAYHK, WECHAT PAY HK OR TAP & GO!
🎁 Enjoy 5% Off your first purchase! Discount Code "GREEN1ST" (Valid on regular priced items only)
Special Package
Natural Disinfecting Anti-pandemic Kit $728 (Nano Sprayer + SmellGREEN® Natural Cleaning Disinfectant Spray-1L) 
SafePRO® Multi-purpose Nano Sprayer is a portable USB charging sprayer, with a spraying distance at around 1.5-2.5 meters, and an ultra small droplet size at 5~8 microns. Simply spray the disinfectant onto the surfaces, and it will disinfect and dry up by itself, no need to wipe.

With a 380mL transparent water tank and 3 levels of spraying intensity, it is very easy to operate.

The unit is equipped with a latest unique infrared human sensor, which is able to spray automatically when people pass by, so as to sanitizer their cloths and hands. The sensor uses heat sensing technology, which will not be triggered when objects are passing by, a clever touch to make it suitable for virtually all kinds of premises. 
Product Features
380 mL transparent tank, easy to monitor remaining liquid level
Unique infrared human sensor design, will not triggered by objects with no heat
Strong 3 gear spraying output, adjustable spray intensity and flow rate
Light-weight, compact, easy to cover narrow spaces
Compatible with solutions such as disinfectant, mould remover, pesticide, deodorant, bird repellent, cleanser etc.
Suitable for household and commercial use, such as restaurants, schools, hospitals, gyms, elderly homes, pet clinics etc.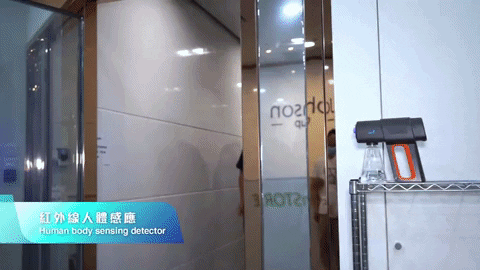 Applications
Space Disinfection Precautions
All HVAC or air-conditioning, ventilation and any electronic appliances should be switched off before spraying
All the food and electronic appliances must be covered or stored
Opening drawers and cabinets are recommended, but not a must
Once finished spraying, wait for at least 1.5 hours before re-entering the site
DO NOT use any corrosive chemical solution, alcohol disinfectant or diluted bleach
Please make sure the human and pets have all left before starting disinfection
14-day Replacement Guarantee
*The product has NO warranty from the manufacturer and GreenSTORE, please note that replacement or repairing requests made after the 14 days guaranteed period, will not be processed or entertained*
The fogging machine/sprayer sold by GreenSTORE come with a 14-day replacement guarantee for damaged products. The products that require replacement must be kept in complete packaging without any damage or scratches. Only the same model can be replaced.
**Any damage caused by man-made error, abnormal usage against instructions in the manual, wrong power supply or negligent use of the product, the company reserves the right to the final decision.
If products need to be returned, please contact us first to make an appointment, and bring the products with the receipts to our office at TML Tower Tsuen Wan.
Product Specifications
Dimensions: (L)237*(W)87.5*(H)214mm
Spray Distance: 1.5~2.5 meters
Battery Capacity: 2200mA
Voltage: DC12V
Charge Time: Approx. 4~5 hours
Operations Time: 60~70 mins (continuous)
Average Droplet Size: 8~20micron (adjustable nozzle)
Capacity: 380mL (continuous spraying for 15-20 minutes)
Power: 25W
Weight: Approx. 950g
Charging Instructions
DC5V charging takes around 4-5 hours to charge the product fully

All LED will be on when charging, the LEDs stop blinking once charging done
Operating Instructions
Pour the liquid into the water tank, switch it to ON position

Short press M to enter 'low' gear, switch to 'mid' gear or 'high' gear, or stop spraying

Short press M twice to turn the blue light on or off

Long press M to turn the infrared sensor on or off, the red light will indicate whether it is in human sensor mode or manual mode

Turn the nozzle clockwise to increase spray thickness, turn it anti-clockwise to decrease
User friendly and effective
The dispenser is easy to use and is handy to move around. Convenient in cleaning. A little bit heavy in weight though.
User friendly and effective
The dispenser is easy to use and is handy to move around. Convenient in cleaning. A little bit heavy in weight though.