Free Delivery with purchase of $500 or above ; Use Your Consumption Voucher by Paying With AlipayHK, Wechat Pay HK or Tap & Go!
*Please be informed that there is a new packing label for the product and you might receive both the old and new design, the composition for both are the same*
*SF Express Service is Not Available For Liquid Products in Gallons, Orders Will Be Delivered By GreenSTORE's Team*
*Special Offer*
From now on, you will get 1 gallon for FREE for every 3 gallons of SmellGREEN® Natural Disinfectant purchase! Purchase 9 Gallons and you will get 3 Gallons and a SafePRO® Toilet Bowl Foam Disinfectant Dispenser for free!
For "Buy 3 Get 1 Free", simple add 4 gallons into your shopping cart, and the sale offer will be applied automatically at checkout! No promo code needed!
Offer valid while stocks last, limited stocks, purchase NOW!
US EPA (List N): Disinfectant for Use Against SARS-CoV-2
SmellGREEN® Natural Disinfectant is qualified for the Emerging Viral Pathogens Claim and meets EPA's criteria for use against SARS-CoV-2 and the new stains of the virus*. 
*Message extracted from United States Environmental Protection Agency List N updated on December 2021
At the same time, SmellGREEN® Natural Disinfectant was also named by Health Canada as an effective disinfectant against SARS-CoV-2 virus when spraying and cleaning on solid surfaces.
*Local Aided Schools Exclusive Offer*
17% Off Discount for Purchase Order More Than 4 Gallons!
Email enquiry@johnson-group.com.hk, call 2421 0203 or WhatsApp 5543 4852 to purchase now!
*NGO/Medical Staff Offer*
Schools, non-profit organizations and HA medical staff (need to provide verification issued by the Hospital Authority) can purchase the product at a discount, every order are limited to 4 gallon at least, please contact us through enquiry@johnson-group.com.hk for details. 

*Special Package*
Natural Disinfecting Anti-pandemic Kit $728 (SmellGREEN® Natural Disinfectant Spray-1L + Nano Sprayer) 

Applications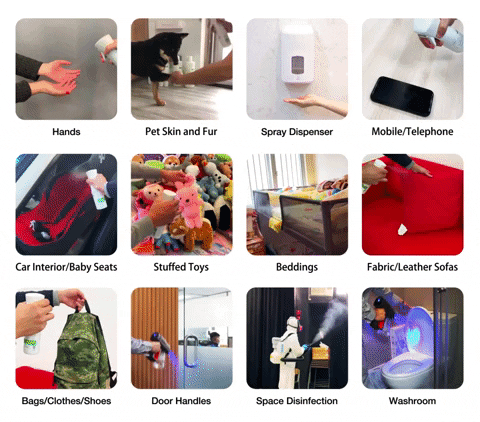 Hospital Grade Disinfectant
SmellGREEN® Natural Disinfectant is a broad spectrum disinfectant made from plant extracts. Suitable for hands and surfaces disinfection, or use with ULV fogger for space disinfection.
All-natural Disinfectant Cleaner & Hand Sanitizer
SmellGREEN® Natural Disinfectant is a plant-based disinfectant & cleaner made from plant extracts and essential oils.
Eliminate mould on walls, ceilings and hard surfaces
Clean and disinfect surfaces such as furniture, counters, trash bins, telephone, door handles, washroom, kitchen, accessories of pets, toys etc
Space disinfection to kill bacteria and viruses
As a hand sanitizer to clean and disinfect hands (Can be used with Infra-Red Sensor Automatic Spray Dispenser)

A Green & Safe Disinfectant
Kills 99.99% of bacteria & viruses
Botanical ingredients
100% biodegradable (OECD 301E Standard)
Non-toxic, Non-corrosive on surfaces (pH8)
Safe for kids, pets and the environment
Does not stain surfaces or skin
Satisfies stringent food security requirements
HKSTC certified, 99.99% anti-bacterial efficacy
Registered at the US EPA and Health Canada
Product from Canada
How to Use SmellGREEN® Natural Disinfectant
The multi-purpose of SmellGREEN® Natural Disinfectant is the perfect solution for any cleaning, disinfecting and sanitizing needs. For cleaning purposes, simply spray on the soiled surface and wipe it clean. As far as disinfecting purpose is concerned, spray thoroughly on the infected surface until it is completely wet. After that, you can let it dry or wipe it clean.
No rinsing necessary for a non-food surface. For food surfaces, rinsing with drinking water is required. SmellGREEN® can be used on a wide variety of surfaces such as doors, door handles, counters, kitchens, baby furniture and so much more.
Safe to Use
All natural, plant-based ingredients are non-irritating on skin & eye, non-toxic, non-carcinogenic and biodegradable; no ammonias, chlorines or gluteraldehyde.
Disinfecting & Cleaning 2-in-1
2 in 1 solution offers proven disinfection with high cleaning performance cleaning; kill bacteria & viruses and remove biofilm layer.


Viruses (1min):
Influenza Viruses (e.g. H1N1, H3N2) / Coronavirus (e.g. SARS-CoV-2) / Rotavirus / HIV-1/ Human Herpesviruses
Bacteria (2mins):
Staphylococcus Aureus/ Streptococcus Suis/ Salmonella Choleraesuis/
Pseudomonas Aeruginosa/ Listeria Monocytogenes/ NDM-1/ Escherichia Coli/ Mycobacterium Terrae (3 Minutes)/ Escherichia Coli O157:H7 
Fungi (3mins):
Pathogenic Fungi/ Candida Albicans/ Trichophyton mentagrophytes


Certificate/Registration

US EPA (EPA Reg. No.87742-1) and Health Canada (DIN 02390035) HKSTC, UL EcoLogo (UL 2794) and NSF
Active Ingredient
Thymol 0.23% (EPA Reg. No.87742-1)

Product Applications Disclaimer
- The disinfectant can only be applied on skin and object surfaces
- The disinfectant is not a kind of medicine, which cannot be taken orally
- The disinfectant does not cure any diseases for human
Packing
40mL (Set of 4 only) / 200mL/1 Gallon
Easy to use, good quality.
SmellGREEN 純天然消毒液
味道可以接受 ,有效消滅 99.99% 細菌及病毒,且成份安全有小孩也可放心使用
Smell Green 消毒液
氣味不錯,狗狗不抗拒,每次外出後用噴霧鎗消毒,很方便。
Easy to use, good quality.
SmellGREEN 純天然消毒液
味道可以接受 ,有效消滅 99.99% 細菌及病毒,且成份安全有小孩也可放心使用
Smell Green 消毒液
氣味不錯,狗狗不抗拒,每次外出後用噴霧鎗消毒,很方便。