Ensure Your Security As the Confirmed Cases Rise
In recent days, the pademic seems to be making a slow and steady comeback. Hong Kong has been recording 4-digit daily confirmed cases, a continuous upward trend has been noted. While the government is considering measures on additional monitoring and COVID tests, we must always remain alert and aware of our personal and environmental hygiene by ourselves!
GreenSTORE's hot pick - SafePRO® Multi-purpose Nano Sprayer is equipped with a smart infrared human sensor, along with 1 litre of SmellGREEN® Natural Disinfectant. Apart from spraying and cleaning by handheld, the combo and take care of automatic disinfection at spots such as entrances. Disinfect the guests' clothes and belonging with no human contact, decreasing the chance of viral transmission greatly.
The thymol of SmellGREEN® Natural Disinfectant kills 99.99% bacteria and viruses, but still safe and non-stimulating to children and pets. Simply let it dry after spraying, and you are good to go.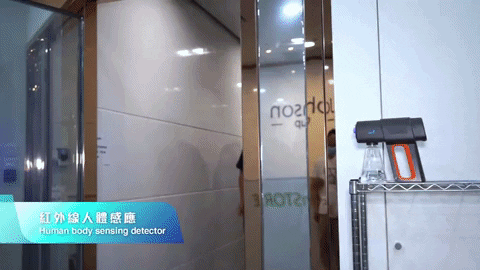 SafePRO® Multi-purpose Nano Sprayer
380 mL transparent tank, easy to monitor remaining liquid level
Unique infrared human sensor design, will not triggered by objects with no heat
Strong 3 gear spraying output, adjustable spray intensity and flow rate
Light-weight, compact, easy to cover narrow spaces
Compatible with solutions such as disinfectant, mould remover, pesticide, deodorant, bird repellent, cleanser etc.
Suitable for household and commercial use, such as restaurants, schools, hospitals, gyms, elderly homes, pet clinics etc.
---
SmellGREEN® Natural Disinfectant
The SmellGREEN® Natural Disinfectant is US EPA registered, and was included in the list of products recommended by the EPA to deal with the COVID-19 virus. The 99.99% efficacy in killing bacteria, virus and mould is supported by the experimental results.

Cleaning, disinfection, and mould removal 3-in-1. The natural ingredients can directly replace alcohol hand sanitizer, best for personal disinfection, space disinfection, and surface cleaning.
Kills 99.99% of bacteria & viruses
Botanical ingredients, 100% biodegradable (OECD 301E Standard, degrade within 14 days)
Non-toxic, Non-corrosive on surfaces (pH8)
Safe for kids, pets and the environment
Does not stain surfaces or skin
Satisfies stringent food security requirements
HK Standards and Testing Centre certified, 99.99% anti-bacterial efficacy
Registered at the US EPA and Health Canada
Product from Canada
Recommended by US EPA for use against COVID-19 viruses (List N.)