【Limited Time Offer】Buy SmellGREEN® to Have A 180 Days Protection For FREE!
Clean, then Spray. Anti-microbial Disinfecting Protection Lasts for 180 Days
A lot of our customers will ask us after buying SmellGREEN® Natural Disinfectant: "How Long Does The Effect Last?"

Actually most of the disinfectant available today does not have a left-over sanitization effect, simply because they make use of the volatility of a organic compound, which is the same case with the botanical Thymol of SmellGREEN® as well. 
However, use SmellGREEN® along with the SafePRO® 180 Days Self-Disinfecting Antimicrobial Coating can provide you a lasting protection with 100% physical approach. Using the principle of positive and negative ions, attracting and destroying bacteria and viruses in the air, then wipe them off with SmellGREEN® to achieve the long-lasting disinfecting effect. The ingredients of both does not contain any stimulative or harmful chemicals, so that you can enjoy the power of anti-microbial coating without worries.
*Limited Time Offer*
From now on, upon purchasing 2 Gallons of SmellGREEN® Natural Disinfectant, you will receive a 200ml bottle of SafePRO® 180 Days Self-Disinfecting Antimicrobial Coating, offer valid until 21st September 2021, act now!
---
SafePRO® 180 Days Self-Disinfecting Antimicrobial Coating
Allow us to introduce to you — the SafePRO® 180 Days Self-Disinfecting Anti-microbial Coating. It utilizes 100% physical approach by attracting the microbes onto the surface and destroying them, with no involvement with any corrosive or stimulative chemicals. The coating will provide protection for up to 180 days, by precluding the transmission of bacteria and viruses such as COVID-19 viruses, and prevention against odour and mould as well.
100% physical approach, no harmful chemicals involved, safe for human, pets and the environment
Last for up to 180 days, no dropoff in efficacy. 
Will not fall off even being wiped and cleaned, thanks to the electrostatic 'bond'
Both antibacterial and antiviral
Helps control moulds and odor as well
With lab reports to support 99.99% efficacy (same against SARS-CoV-2)
Applicable for virtually any surfaces (including metals, wood, fabrics, porcelain, stoneware, plastic, glass and mirrors, leather, etc.)
Great for stopping infections and reduce risk of cross contamination in public spaces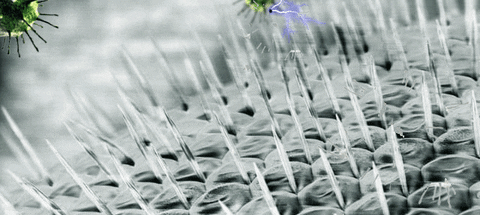 The principle behind SafePRO® 180 Days Self-Disinfecting Anti-microbial Coating is simple, the silane quaternary ammonium compound will be attached onto the surface aftering spraying. The "bond" was formed with the positively-charged ions being attracted onto the surface. Virus including the COVID-19 is nothing but a negatively charged RNA, thus, the SafePRO®  Coating will attract them onto the surface due to the electromagnetic force induced, and destroy their membranes.

The 100% physical approach making it effective against 99% known pathogens, and will not suffer from resistance developed over time like the chemical approach. Microorganisms could get used to chemicals, which causes the efficacy to decline over time, but SafePRO® 180 Days Anti-microbial Coating ground breaking technology can overcome this problem. Unlike light-catalyzed solution, SafePRO® does not need light to function.
Clean and Disinfect with

SmellGREEN®

First
Before applying the SafePRO® Coating, we need to make sure the pathogens on the surface has been wiped out already, so as to make sure the coating's ions were correctly bonded with the surface. Therefore, spray the SmellGREEN® Natural Disinfectant before applying the coating, to eliminate 99.99% bacteria and viruses. Let it dry for 15-20 minutes, then apply the coating to achieve best efficacy.
SmellGREEN® Natural Disinfectant is a plant-based botanical disinfectant & cleaner made from plant extracts and essential oils, which is capable of disinfecting, cleaning and mould removing 3-in-1.
Clean and disinfect surfaces such as

 

furniture, counters, trash bins, telephone, door handles, washroom, kitchen, accessories of pets, toys, etc
Space disinfection

 

to

 

kill 99.99% of bacteria & viruses
Eliminate mould on

 

walls, ceilings and hard surfaces
As a hand sanitizer to clean and disinfect hands (Can be used with

 

Infra-Red Sensor Automatic Spray Dispenser)
A Green & Safe Disinfectant
Product from Canada
Botanical ingredients, non-toxic, non-corrosive, pH8, no damage to skin
100% biodegradable (OECD 301E Standard, degrade within 14 days)
Safe for kids, pets and the environment
Does not stain surfaces or skin
Satisfies stringent food security requirements
HK Standards and Testing Centre certified, 99.99% anti-bacterial efficacy
Registered at the US EPA and Health Canada