USE YOUR CONSUMPTION VOUCHER BY PAYING WITH ALIPAYHK, WECHAT PAY HK OR TAP & GO!
🎁 Enjoy 5% Off your first purchase! Discount Code "GREEN1ST" (Valid on regular priced items only)
As we enter the new year, I, FunBee, will for sure be here to celebrate the new year with you! FunBee loves life and is a very diligent and hardworking bee, I will prepare different pictures for you every month of the new year. I want to spend all the ups and downs every day of your ordinary life, and the excitement of different festivals together.

Save Local Bees 2023 Desk Calendar, with my cute illustrations of for every month, you can put me on bedside tables or work desks, so you can remember every important moment in your life, high and low, bring me back home today!
Gentle Reminder: * Product colors may vary slightly due to differences in photography and screen settings, all subject to the actual product!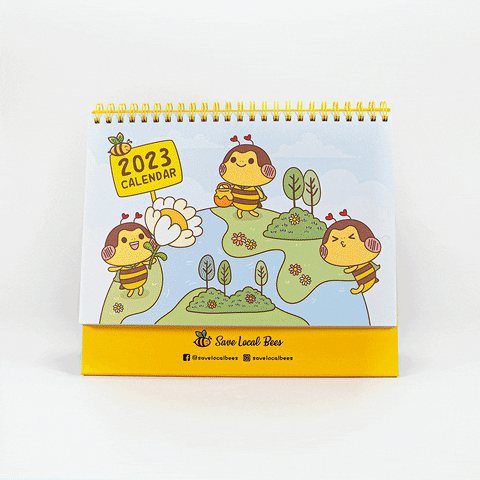 Your Support Will Make a Difference for Local Bees
Part of the proceeds of the sales will be donated to support Save Local Bees conservation program.
With your support. Johnson Group will be able to help anyone in need to relocate bee hives, protecting the bees from being killed by other pest control companies or poisoned by toxic pesticides, eventually they will live at a new home provided by local beekeepers.
Learn more about our "Save Local Bees" Conservation Program
Follow Our SLB Mascot - FunBee!

Not only Johnson Group, The Bees Kingdom has noticed the drastic decrease of bees population. And they are also determined to save the honey bees, as well as our nature!
FunBee was the ambassador they sent to us. Follow Funbee's page for more fun news and fun facts about the world of bees!
Product Specifications
Size: 183mm(L) x 215mm(W) x 75mm(D)
Inside page size: 148mm (L) x 215mm (W)
Pages: 14 pages
Material:Paper