GET DOUBLE POINTS NOW ON PURCHASE OVER $520! BEE MY HONEY BUNDLE ONLY AVAILABLE ON FEB 08 TO MAR 14
Future Lab 6S Electric Manicure & Pedicure Tool
Brand: FutureLab
Product Code: PC-BE-022
The Taiwan innovative technology company Future Lab has come with a new cosmetic appliance – the mighty 6S Electric Manicure & Pedicure Tool. It is now a hot pick within Taiwan.

Busy life means we have little time to take care of our feet, that's how callus occur. The 6S Electric Manicure & Pedicure Tool can help you remove all the unwanted callus and nail edges, polishing with a 2500 RPM motor. With the metal cover, you can file and shape your nails at will. The oval shape of the polishing head making sure your skin and nails would not be damaged, also increasing the contact area.

The scraps left behind will be dragged into the nano dust collecting cotton pad, very convenient and clean.

Product Features
Comes with a large and small polishing head, can be used for different parts of body
Remove all the scraps and callus, enjoy silky smooth skin and nails
Oval shaped polish head would not damage your skin
Great in collecting scraps left behind, easy to dissemble, clean, and reuse
1 year warranty (keep the receipt to claim)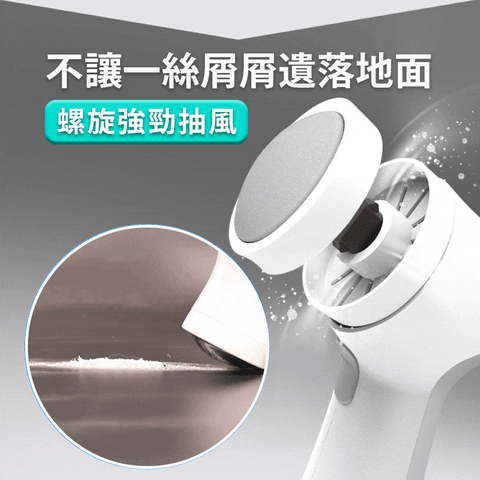 Frequently Asked Question

1. What does the metal cover over the polishing head do?

The cover is specifically used for manicure, preventing damage to the nails, when using it on your foot, please remove the metal cover.

2. Can be use it onto the body parts that are moist/damp?

Please use it on body parts that are complete dry only, as the scraps could be stuck due to the water tension. Besides, please remember do not push the unit into your skin while you are polishing, it could damage the internal of the unit.

3. Why there are some scraps coming off the unit when using?

The 6S will suck the scraps into the collecting pad, however, sometimes larger pieces of calluses could come off. Therefore, please lay a tissue of cloth underneath when using the unit. If scraps kept spilling out from the unit, that means the nano collecting pad is full. Please detach the pad by rotating the cover anti-clockwise, clean it thoroughly and reuse again.

4. When should I replace the nano dust collecting cotton pad? If it breaks in half, what should I do?

The cotton pad is nano level, which means you can simply brush the scraps off the pad, the pieces should not be stuck onto the cotton pad. Do not use water to wash the cotton pad because it is likely to break the pad. If your cotton pads ran out, click here to purchase the accessories supplement set.

Product Specifications
Net Weight: 200g
Dimensions:15x4.7x8cm
Charging Voltage: 5V
Charging Current: 0.6-1A
Charging Time: Approx. 4 hours
Operation Time: 20-30 minutes (continuous)
Battery Capacity: 2800 mAh
Power: 10W
Motor Speed: 2500 RPM
Material: SBS, stainless steel (main unit), Aluminium Oxide (polishing head)
Accessories: The main unit, large polishing head, small polishing head, nano dust collecting cotton pad, cleaning brush, charging cable